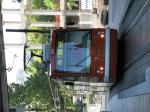 Since everyone else is going green, I decided I'd take mass transit for a day trip downtown and to the zoo. It is a short drive to the local transit station (there are no weekend buses in my immediate neighborhood) so I bussed from here to downtown. The Portland streetcar took me cross town where I had a pleasant morning coffee with some friends -- sitting in their old house with the windows open and the large trees overhanging the house and street. There are some great neighborhoods in the city.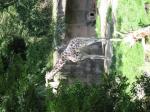 The train to the deepest subway station in North America and up to the zoo. I haven't been in a few years and the place is expanding. There is a lot of construction. The monkey house is being remodeled for the great apes and the artic tundra exhibit has been torn out to be replaced with a large cat area. The zoo is not dying.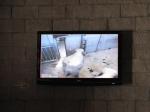 The elephant barn was closed to visitors. I finally noticed the TV trucks parked outside and, when I went into the display area, I found a crowd of people watching closed circuit TVs. Just a few hours earlier, the mother elephant's water had broken and there was great excitement over the imminent birth of an elephant. It could happen at any time. I waited around for about 30 minutes but eventually left. The baby was born about two hours later.
Mass transit worked wonderfully for me and the weather was lovely. A relaxing day.