As I mentioned in the Twitter to the left, we drove into LA last night. It was really LA as we experienced freeway traffic jams on a Sunday evening. Amazing. It's in the 80's and a little humid with not a cloud in the sky. At this very moment, I'm sitting beside the pool at our hotel while the laundry goes around – a necessity of travel.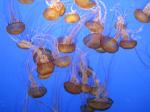 After SF, we stopped in Monterey to visit the Aquarium and eat lunch in their touristy Fisherman's Wharf. The aquarium had a lot of amazing displays of fish and plants but the activities were all geared to young children. So we came, we oggled, we exited.
The next day was a visit to Hearst Castle. When I have 200 million dollars to spend on a house, I hope mine is this magnificent.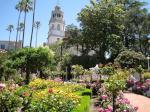 The rest of the day was spent driving down the California coast -- beautiful, beautiful, beautiful: the sea lions basking on the beaches, the white waves crashing against the rocks and the blue, blue ocean.
---
Comments:
2008-05-28 06:33:42 +0000
): How cool!! and pretty <3 I'm jealous.
(